There's this idyllic version of the perfect day in my mind, and that day always involves NYC in the fall. The crispness in the air is enough to take away any unwanted smells, the few trees on the streets leading into Central Park have leaves turning various shades of yellow, orange, and red, and the classic New York City buildings – from brownstones to historical landmarks – are found on either side of me as I walk down the street. Scenes from one of my all-time favorite movies, You've Got Mail, could easily be seen as part of this perfect day and when I think of what I'd be wearing, my fall outfit always revolves around a fall bag and shoes. Certain bags stand out as fall and winter bags so well, they immediately take me to that happy place in my mind, and the new line of Jimmy Choo Varenne Bags manages just that.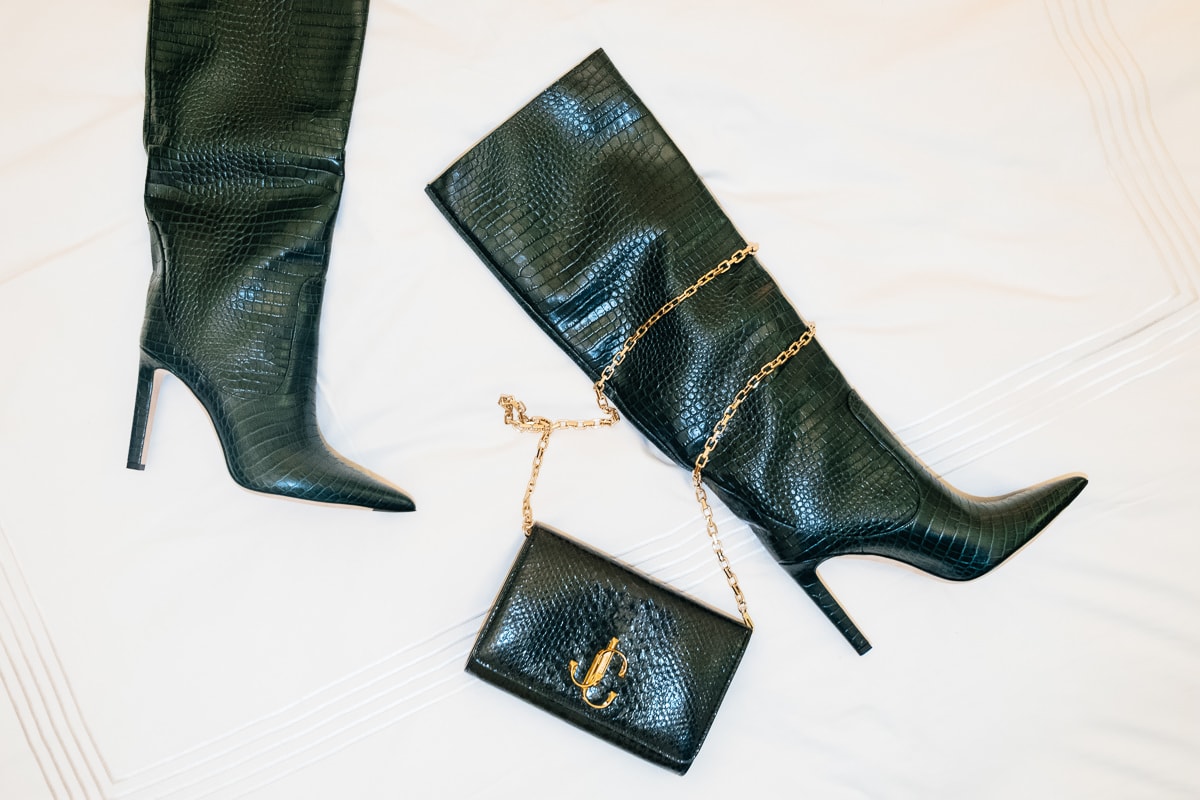 I could easily picture myself with one of the Jimmy Choo Varenne Bags (I'd go for the Bowler, more to come on that below) and a pair of Jimmy Choo boots (so many to choose from). Sandra Choi, creative director of Jimmy Choo, has a vision for the brand's handbags to have a more substantial offering and place in the accessory world. With fall tapping at our windows, the brand released its new line of handbags that show a refreshed vision that's ideal for cooler weather wardrobes, not only with its color offerings but also with its bold designs. Introducing the Jimmy Choo Varenne Bag family for Fall/Winter 2019, a line that is defined by equestrian references with a modern British twist.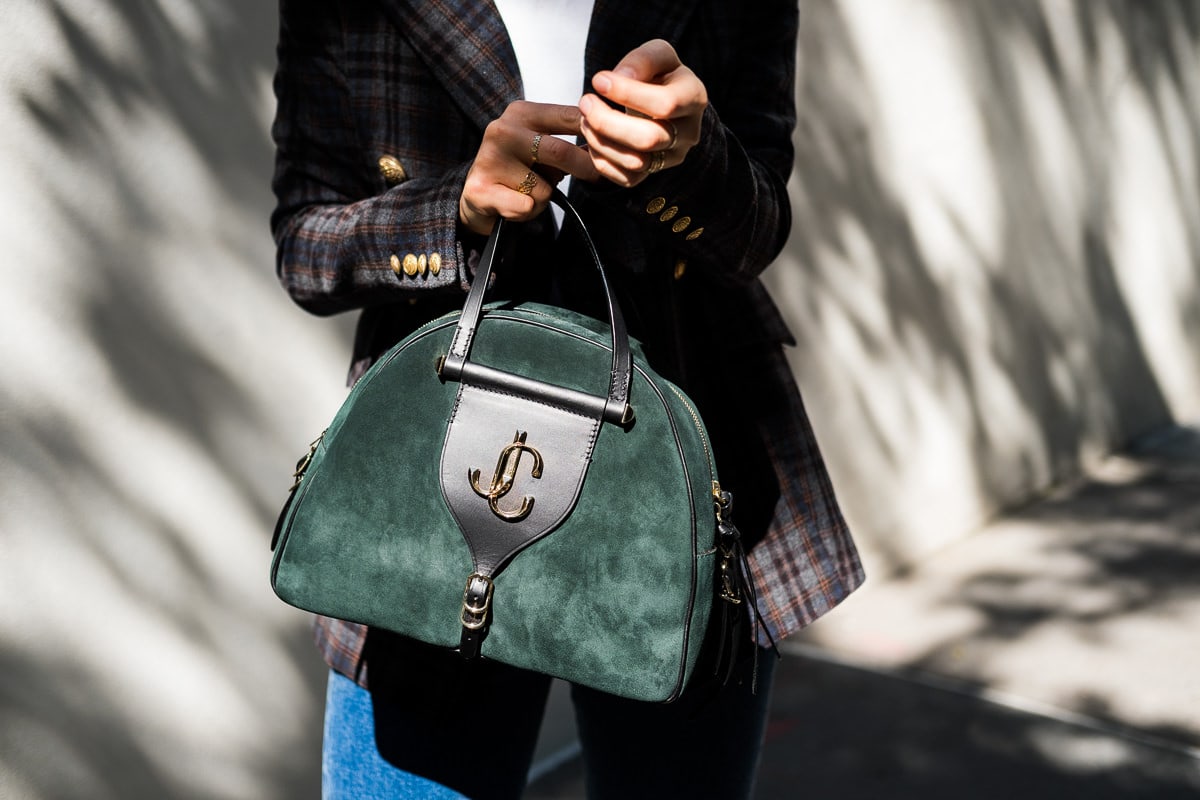 The Bowler ranks among one of the lesser worn shapes, but when done correctly, it stands out beautifully. The Jimmy Choo Varenne Bowling Bag comes in a variety of colors and materials and is available in two sizes (small and medium). This Bowling Bag is a modern, elevated twist on the Bowler, allowing for maximum usage, coupled with interesting design elements.
Seeing the finished product, we often forget the work that goes into its creation, not considering the steps it took to arrive at the final design. Jimmy Choo aimed to perfect its Bowler by drawing over 40 sketches and taking 3 months to achieve their intrepretion of the perfect bowling bag. The Bowling Bag is made up of 160 different pieces and 72 distinct patterns. Each bag is handmade in Italy by 6 artisans, each with a different skill set, and after completion its edges are then hand painted three times to achieve an optimal finish.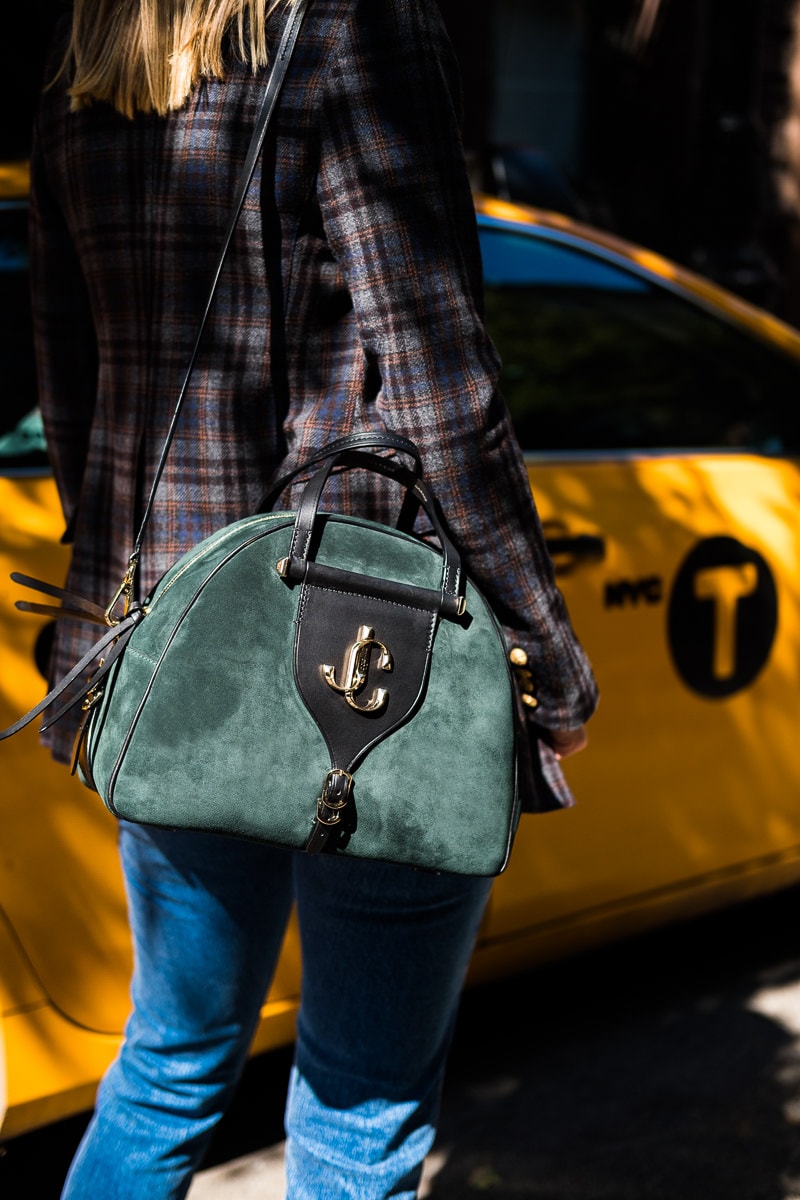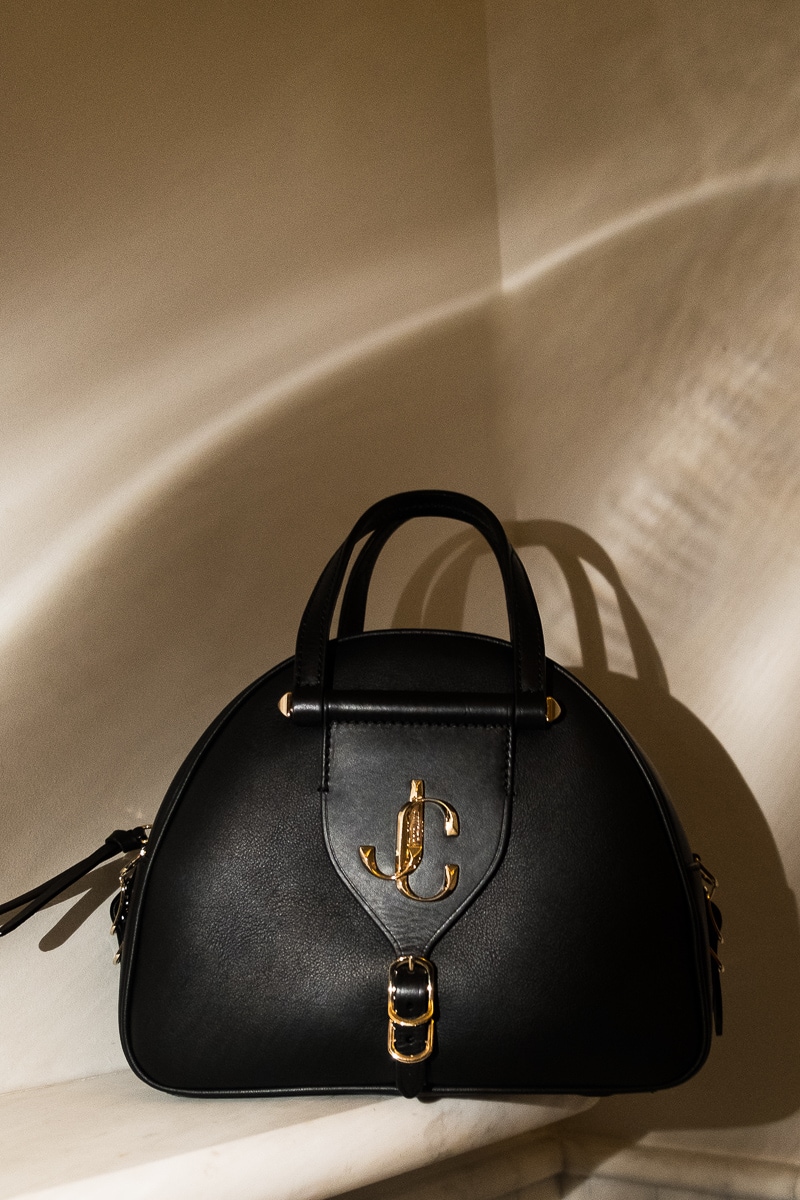 As for the new JC Monogram, the brand aimed to showcase a monogram that would make its bags identifiable by the well-known shorthand for Jimmy Choo. The brand settled on the interlocking JC initials in brushed and polished plated-brass hardware with distinctly beveled edges. The Bowling Bag also features the Jimmy Choo family hallmark of the multi-buckled leather harness that criss-crosses on the surface, paying homage to bits and bridles of dressage. The equestrian touches gives the bag a sophisticated look, which makes this bag ideal for daily use in either size. Both have an optional shoulder strap and dimensions of the small are 9″ length X 8″ height X 4″ width, while dimensions of the medium are 12″ X 10″ X 5″. The interior is fully lined in suede.